Biblioteka Sarajevo. Literarno mjerenje grada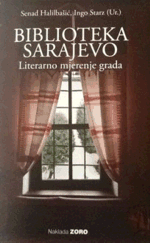 Bosnien und Herzegowina
Bosnisch
Sachliteratur
2012
Sarajevo is a city where the coexistence of religions and cultures has turned into stone. Mosques, churches, synagogues shape the cityscape still today. And yet, behind the facade, society is ethnically split and divided. The book project 'Library Sarajevo' is a literary exploration of the hidden spaces of the city. Personal, collective, and cultural memories are questioned and assembled into a multifaceted portrait of an unique place.
Authors from Sarajevo write prose, poetry, and essays about the city. In the written testaments, war experiences come alive, the daily life of the city is put to paper, and its cultural heritage is re-evaluated. Apart from looking at the history of the place, it is especially the present itself that pushes itself to the forefront of the book. Its problems and questions inform the tone of this anthology.
The book is dedicated to the national and university library of Bosnia and Herzegovina that went up in flames on the night of the 25th to  26th August 1992. The project was commissioned and supported by the Goethe-Institut Bosnia and Herzegovina and was  published in the Bosnian language in Sarajevo.
Edited by Ingo Starz und Senad Halilbašić.