Eintrittskarte / Ulaznica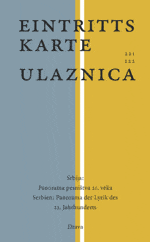 The poets in this selection belong to the generation born between 1957 and 1980. All of their lives experienced a dramatic turn in the 1990s: the disintegration of Yugoslavia, economic sanctions, NATO bombs, the fall of Milošević and, after Zoran Đinđić's assassination, the snuffed out hope for a quick return to social normality. Despite this, or precisely because of it, they speak first and foremost as individuals. They know where they come from, but they also know that they belong to Europe and have become part of the global village because of the digital revolution. The bilingual poetry anthology Eintrittskarte / Ulaznica, edited by Dragoslav Dedović, is published in cooperation with the Serbian literary magazine Ulaznica by Drava, Klagenfurt/Celovec.
Authors: Alen Bešić, Marjan Čakarević, Enes Halilović, Oto Horvat, Dejan Ilić, Saša Jelenković, Ljiljana Jovanović, Nenad Jovanović, Vojislav Karanović, Zvonko Karanović, Marija Knežević, Milena Marković, Petar Matović, Petar Miloradović, Nenad Milošević, Željko Mitić, Dragana Mladenović, Živorad Nedeljković, Dejana Nikolić, Saša Radojčić, Ana Ristović, Maja Solar, Rade Tanasijević, Jasmina Topić, Siniša Tucić, Srđan Valjarević, Danica Vukićević, Nina Živančević and Miloš Živanović.
Translated into German by: Alida Bremer, Jelena Dabić, Dragoslav Dedović, Elke Erb, Fabjan Hafner, Matthias Jacob, Susanne Böhm-Milosavljević, Elvira Veselinović and Dagmar Vohburger