LICHTUNGEN 126 ‒ Neue Literatur aus dem Kosovo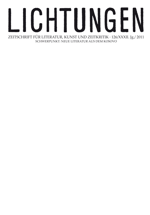 LICHTUNGEN ‒ the journal for literature, art and contemporary issues has been published since 1979 in Graz and has developed in recent years, with focal points on international countries and cities, into a well-known literary journal in Austria, Germany and also in South Eastern Europe. It offers an interesting and varied mixture of recent, unknown literature, internationally well-known authors, of recent visual arts and sophisticated essay-writing.
Edited by Helwig Brunner, Werner Fenz, Markus Jaroschka and Georg Petz.
LICHTUNGEN 126/XXXII. Jg./2011, Schwerpunkt: Neue Literatur aus dem Kosovo

Publisher:

Literaturkreis LICHTUNGEN, Graz