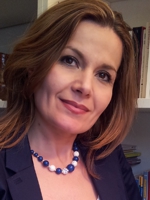 Fiction
Poetry
Albanian
German
Albanian
German
Albania
Germany
Lindita Arapi was born in 1972 in Lushnjë, central Albanien. She holds a PhD in Cultural Studies and is a writer of the so called Albanian literary avant-garde circle that was formed in the 1990s. She published several books of poetry: Am Meer, nachts [By the sea, at night] from 2007 was her first poetry book in German and the first poetry book by an Albanian poetess published in the German language. Her first novel Vajzat me çelës në qafë [Girls wit keys] was published in 2010.
She received many national and international awards for her works. Besides being a writer, Lindita Arapi also works as a freelance editor of the Deutsche Welle radio station and as a translator. She translated, among others, texts by Günter Grass, Joseph Roth, Josef von Luitpold, Elias Canetti, Marion Poschmann, Ron Winkler and Felicitas Hoppe to Albanian.
Lindita Arapi is married, has two daughters and lives in Bonn.